Advancing global coastal resilience

The Coastal Hazard Wheel initiative aims to advance global coastal resilience through standardization and automation of coastal management guidance with three focus areas
A universal automated classification of the world's coastlines
Multi-hazard-assessment and management guidance from local to global level
A standardized coastal language to facilitate coastal communication
Coastal Hazard Wheel explained
The key to the world's coastlines
The Coastal Hazard Wheel is a universal coastal classification and management framework to address all the main coastal challenges simultaneously. It can be used as a complete coastal language and aims to boost climate change adaptation and bridge the gap between scientists, policy-makers and the general public. It is based on a comprehensive coastal classification system and functions as a key for classifying a particular coastal location, determining its hazard profile, identifying relevant management options and communicating coastal information. It can support coastal master planning and improve hazard awareness and the automated Coastal Hazard Wheel App will provide increasingly detailed coastal classification and adaptation guidance for the world's coastlines as various classification and data projects are implemented.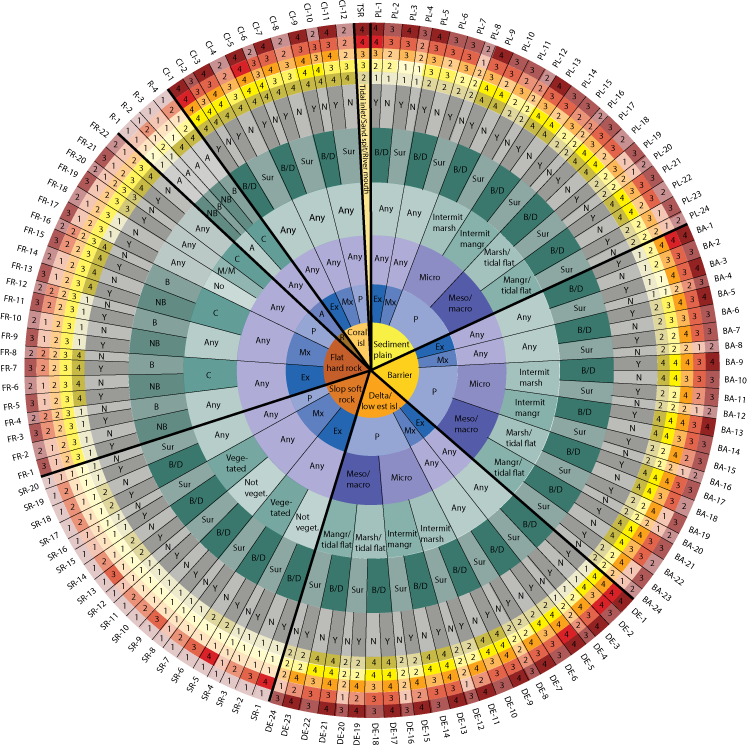 UNEP Guide
Publication package for coastal stakeholders
Global coastal classification programme
Automation & GIS
Scientific background material
Papers & graphics
Get updated
New developments
Coastal Hazard Wheel used for adaptation assessment of 40 island states

The Coastal Hazard Wheel is being used for assessment of coastal climate change hazards, development of national exposure statistics and adaptation recommendations for 40 of the world's Small Island Developing States (SIDS). The analysis is carried out at the request of FAO and will contribute to FAO's global program on strengthening the climate resilience of the SIDS and the implementation of timely adaptation and management measures.

Coastal Hazard Wheel used for climate change adaptation in West Africa

The Coastal Hazard Wheel is being used for a regional coastal classification, hazard management and standardized communication scheme for the West African region coordinated by the regional coastal authority WACOM. The activities are implemented based on a request from WACOM and nine West African countries to the UNFCCC Climate Technology Centre & Network and aim to strengthen coastal governance and climate change adaptation from local to regional level.

New national erosion assessment for Colombia published

The assessment has been carried out as part of the development of a Colombian coastal Master Plan. It provides information on coastal types, hazard levels and management perspectives and investigates possibilities for using global open access data for regional assessments. Furthermore, it tests the automatization processes of the Coastal Hazard Wheel App. The assessment has been published as a scientific paper that can be downloaded from the Colombian pin above.

New UNEP water technologies publication uses CHW for input

The publication introduces 102 adaptation technologies for building resilience to climate change in the water sector. It provides a comprehensive overview of specific water adaptation technologies and techniques to address climate change challenges and to help build adaptive capacity. The CHW has been used for inputs to the coastal technology taxonomy and for specific technology descriptions. The publication can be downloaded from UNEP-DHI's main webpage.

Coastal Hazard Wheel used for erosion assessment for Malta

The Coastal Hazard Wheel is used for a national erosion assessment for Malta. The assessment is carried out by researchers at University of Malta and includes generation of national hazard maps, coastal classification information and management considerations. The assessment aims to support national decision-making and is available as a scientific paper published in Ocean & Coastal Management.

Coastal Hazard Wheel presentation at UNEP-DHI webinar

The Coastal Hazard Wheel is presented as part of UNEP-DHI webinar series on Source-to-Sea Management. The webinar aims to increase the understanding of cross-disciplinary issues for achieving UN SDG6 on freshwater and UN SDG14 on oceans and covers approaches to assess, track and model Source-to-Sea interactions. It will take place 15th August, 15.00 CEST and it is possible to sign up or access recordings through UNEP-DHI's website.

Coastal Hazard Wheel used in Vietnam & Bangladesh

The Coastal Hazard Wheel is currently being used for case assessments in Vietnam and Bangladesh and the results will be incorporated in the further development of the global coastal classification system. Technical assessment information, results and relevant policy conclusions will be provided as soon as they are published and more information including relevant contact points is provided on request.

Coastal Hazard Wheel platform operational

The Coastal Hazard Wheel / Open Access Platform will constitute the hub for all activities related to Coastal Hazard Wheel system. It will provide direct access to all scientific and technical background information and provide the basis for ongoing big data activities on classification of the word's coastlines. It is the aim that the platform over time will offer interactive global coastal classification and management data for coastal stakeholders worldwide.

UNEP Coastal Hazard Wheel publication package released

The UNEP publication package on the Coastal Hazard Wheel provides a complete guide to the CHW system and consists of four components, namely the Executive Summary, the Quick start guide, the Main manual and the Catalogue of hazard management options. The publication package provides guidance to the full range of stakeholders involved in coastal adaptation activities and the Executive Summary is translated to all official UN languages.